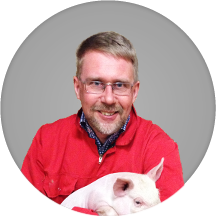 Erik Lindahl, CEO of Lunden's Animal Health AB. I was born in the soil of Skåne and got my first sow when I was 8 years old. During the early school years I was breeding pigs to my mother who had slaughter pig production. Environmentally Damaged since childhood, I ended up at the Veterinary College and graduated in 1995, half a year business, and military service was handled well during the study period. After a few years in private practice as a district and six months in reserve officer training through five years as head veterinarian at F 22 Torsåsen pigs became full time. 2002 I Danish fagdyrlaege on pig after a three-year specialist training and afterwards I even got Swedish specialist.
I am a true entrepreneur with a passion for pigs and people behind the pigs. I like to solve problems, is constantly curious and a true optimist time. I like my work to me all the time I face new challenges and I like to see people and businesses develop.
Spare time given to the family, the farm with breeding of horses and some cattle and a little hunting and physical exercise in moderation.