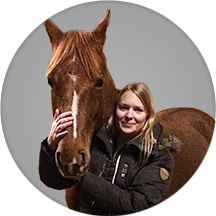 My name is Malena Bylin and was born and raised in West and employee Lundens Animal Health Ltd which animals paramedic since 2011, where I was, except to assist in equine dentistry and the small animal clinic, handling billing and purchasing, instrument care and customer contacts.
Grew up on a farm with beef and pork production and breeding of Ardennes horses. Have own horses since 1993 First own foal was born in 1997 and I have engaged in breeding warmblood horses with a focus on show jumping since 2005 In addition to the breeding and training of their horses, so I have lodgers in my yard, where I also conduct a semen on a small scale.
In addition to the high school and a further education with horse approach, I have worked in the stables, with highly variable assignments for staffing companies and have undergone training in a district veterinary station. Went animal medical services training at the Swedish University of Agricultural Sciences, 2005-2007, and has also worked at a small animal clinic, as well as a district veterinary station. He is also trained semi assistant on horseback.
There is a variety of work with many tasks and contact with many kinds of people in that I work with horses, pigs, and small animals.
I think it is a challenging job with all animal ownership in contact mainly horse page, where I can help the owners to a better functioning of labor trends, leading to an improved riding / driving feel.