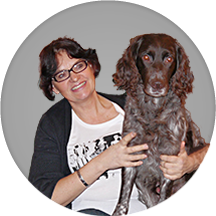 Veterinary Officer Mia developing countries. Has been employed at Lunden's Animal Health Ltd since 2010 Works with administrative tasks as journal writing, archiving, statistical summaries, practice journaling and animal health reports. Include a bachelor degree in human resource management and healthcare documentation training and has worked among others in the West Swedish Chamber of Commerce in Skovde, Aker Engineering in Oslo, within the administrative pool service at essentially the emergency room at the hospital in Halmstad,
that night in the emergency room secretary at Östra Hospital in Gothenburg, Falun Hospital and several clinics Halland.
I find it interesting and rewarding with language processing and to be in the process of developing the Swedish pig enterprise and safeguarding Swedish pig production, which is close to my heart and feel very important.